ISIL raises its banner in southeast Asia with four local groups pledging loyalty
Comments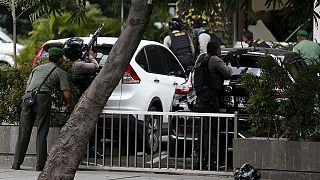 Indonesia has seen attacks by Islamist militants before, but Thursday's coordinated assault by a team of suicide bombers and gunmen is unprecedented and reminds people of the sieges seen in Mumbai seven years ago and in Paris last November.
The world's largest Muslim State is now receiving considerable attention as a potential beachhead for regional ISIL extremism.
Scores of Indonesians are believed to have traveled to Syria to wage jihad with various Sunni militias and several Indonesian Islamist entities have openly campaigned for ISIL.
But many other countries in Southeast Asia face the same threat of ISIL inspired attacks.
In September, Malaysian police thwarted a plot to detonate bombs in Kuala Lumpur's vibrant tourist area of Bukit Bintang. Other recent plots frustrated by Malaysian security forces included plans to raid army camps and seize weapons.
During the past few weeks in the southern Philippines, four Islamic terrorist groups have joined forces to become an outpost for ISIL. Among those groups is the notorious Abu Sayyaf, which is believed to be the mastermind behind numerous attacks across southeast Asia over the past decade.
ISIL's strength is not only the power to inspire sympathisers, but also the ability to capitalise on attacks committed by others, with no direct links to the group.
The Erawan Shrine bombing in the Thai capital Bangkok, which killed 20 people last August, is believed to be the work of separatist groups. But the way it was executed
reminds investigators of the same methods and tactics often used by Islamist terrorists.
Since ISIL launched its "world war", the group has striven to show that it can strike anywhere in the world. The most recent attacks seem to prove that.
Indonesia has been attacked by Islamist militant groups in the past and was on high alert over the new year period after threats from the so-called Islamic State (IS).
National police spokesman said while it was not yet clear who carried out the attack, IS had warned of a "concert in Indonesia" which would be international news.
Nial O'Reilly, euronews:
"For more on the attacks in Indonesia we're joined by analyst Omar Hamid, who is head of Asia-Pacific Country Risk at IHS.
Mr Hamid, why would Islamic State or its allies attack Indonesia?"
Omar Hamid:
"Indonesia has always been one of the countries where there's been a considerable friction and tension with regard to Islamist militancy. Now, Indonesia has in the past been very successful in handling this, and especially in the years 2002 to 2009 where there was a spike in terror attacks in Indonesia and the government was able to deal with that in a very effective manner, which led to a decline (in attacks) in the years subsequent to 2009.
But, nevertheless, the basic components of Islamist insurgency or of militancy still remain in the country. And also, we've seen an increasing number of Indonesians go and take part in the war in Iraq and Syria on behalf of Islamic State and as you will see some of these people coming back to Indonesia you'll find they bring back a high degree of
capability."
euronews:
"Is this an alliance of convenience between the local group and Islamic State? Do they share the greater goals of Islamic State or do they have their own agenda?"
Omar Hamid:
"Fundamentally, in a country like Indonesia the primary driving factor will always remain the local context. Of course local groups will find complementarity with trans-national groups like the Islamic State or, for instance, al-Qaeda as well. So there will always be a degree of commonality, but the basic agenda will be one that's driven by local imperatives."
euronews:
"Is there a threat to the wider region? Is there a risk that Islamic State could spread its activities elsewhere in the region?"
Omar Hamid:
"The risk is not so much the Islamic State coming in itself and establishing a foothold in southeast Asia. The primary risk is that in a number of south east Asian countries, including as I said Indonesia, Malaysia, the Philippines as well, you have people who have gone over to fight with Islamic State volunteers in Iraq and Syria and as these jihadists return to their homeland – and that's not necessarily happening immediately, but it may happen in the medium term outlook over the next five years or so – you'll find that the capabilities they bring will be of a much higher level than those of existing militants in those countries.
They'll almost act as a force multiplier. And, in fact, if you want to look at an historical parallel it's very similar to what happened at the end of the Soviet invasion of Afghanistan in the late 80s and early 90s, where again a lot of people who had fought in Afghanistan returned to countries like the Philippines and Indonesia and brought a higher skills set, which subsequently led in the late 90s and early 2000s to the start of very active insurgencies in these countries."