Gun Control America's tragic labour pains
Comments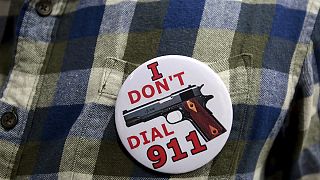 Many mass shootings, crucially including children as the targets, have scarred the United States during President Obama's time in office, like the latest on 2nd December. The killing of 14 people at a holiday party in a social service centre in San Bernardino, California, was considered a terrorist attack.
Just one month later, not far away, the Crossroads of the West Gun Show organisers said trade was up, and that people were concerned about their personal safety. The day after Obama said he would tighten control, believers in the right to bear arms written in the 1791 Second Amendment of the US Constitution defied him.
"You are going to take guns away from law-abiding citizens and the criminals are going to still have guns. Look at drugs: drugs are illegal, you know, [but we] still have those."
After eight students and a teacher at a community college near Roseburg, Oregon, were shot dead last October, some people were also convinced that general weapon ownership can guarantee their security.
A shaken student said: "I think that there should be more guns in the area and that everybody should be protected and know how to use them and protect themselves, because this could have very easily been avoided."
The year 2012 felt especially tragic. There was the Aurora, Colorado, massacre of 12 movie-goers in July. And then in December, 20 children and six adult staff at the Sandy Hook Elementary School in Newtown, Connecticut, were killed.
Advocates supporting tighter control policy again spoke out.
"Twenty children are dead, our laws are broken, and it could happen again tomorrow!" said one university student, while another added: "Normalising guns, normalising violence in an educational setting is a terrible idea. I'm totally against arming students, arming faculty."
Obama signed a bipartisan plan on background checks for selling and owning guns in 2013 but in the Republican-dominated Senate it failed to pass, by six votes.
Obama said: "I'm putting forward a specific set of proposals based on the work of Joe's task force [Vice-president Joe Biden], and in the days ahead I intend to use whatever weight this office holds to make them a reality."
In Obama's final year in office, critics have said his unilateral action to expand gun control shows weakness.
Still he insists America must not give up the fight to end gun tragedies.