Sweden imposes border checks to stem flow of migrants
Comments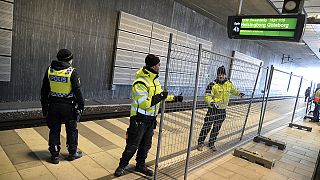 For the first time since the 1950s Sweden is imposing border checks on rail and road travellers entering the country from neighbouring Denmark. It's a move designed to "curb the flow of asylum seekers"http://www.theguardian.com/world/2016/jan/03/sweden-to-impose-id-checks-on-travellers-from-denmark
From now on everyone coming into Sweden will have to present a valid photo ID, such as a passport to Swedish border security
"In order to avoid domestic passengers to get mixed up in a pass-Control they will remain on one side of the fence and passengers travelling from Denmark will end up on the other side. And those are the ones who will be checked, " said Director of operations at Malmö Police Department, Paul Juhlin.
The imposition of the new rules is being seen as another blow to the Schengen treaty. It also represents a substantial policy U-turn from a country that for much of 2015 operated an open-door policy towards the migrants crossing from Turkey to the Greek islands and heading northwards.
Sweden had expected to accept about 100, 000 newcomers in 2015, but by year's end the figure was almost twice that, and the country was struggling to provide shelter, education and other essential services for would-be asylum seekers. Sweden's Prime Minister Stefan Lofven said in November that the country's generosity had been "naive".
There have been mixed reactions to the imposition of the border checks:
It is humbling that tightening border controls is cause for sadness not celebration in Sweden https://t.co/JP5v4OLLqd

— Roz Mounter (@cherryflip) December 23, 2015
Sweden: A Shambles: "new border controls are there for sole purpose of reassuring public – no effect on migrants." https://t.co/YDbJm3L9oC

— DinahLord (@DinahLord) December 13, 2015