Chinese economic data sends tremors across stock markets
Comments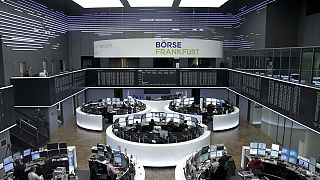 "Violent New Year fireworks," is how one analyst summed up events on Wall Street where the Dow fell 450 points having its worst opening day in 84 years as weak Chinese economic data reignited fears of global growth.
In Europe Frankfurt dropped almost 4.3 percent, London, Paris and Madrid all dropped almost 2.5 percent.
China's disappointing manufacturing data with factory activity contracting for a 10th straight month in December and at a faster pace than the previous month was one reason analysts said for the fall.
"I t was expected to show a modest increase in December, actually we saw quite a large decline. It's just renewed the same fears that dogged a lot of last year's trading, namely that the slow down in China's economy could be set to speed up that obviously weighs on any industry which relies on China," explained market analyst Jasper Lawler.
But crude oil prices rose on the back of news that Saudi Arabia had broken off diplomatic ties with Iran. Investors speculated on possible supply restrictions following the deterioration in relations.
Gold jumped more than one percent as investors fled to the safe-haven metal.