Popular French restaurant hit by car bomb in Kabul
Comments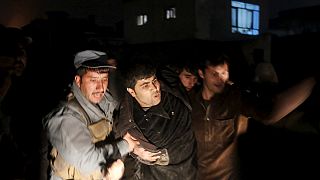 A suspected car bomb targeting a French restaurant has exploded in downtown Kabul.

The site after a suicide car bomb attack at a French restaurant - Le jardin in #Kabul#AFP@kohsarpic.twitter.com/oI2exdytZH

— Aurelia BAILLY (@AureliaBAILLY) January 1, 2016
Le Jardin is popular with diplomats, aid workers and journalists.

Le Jardin restaurant in Kabul. A welcome respite. pic.twitter.com/rsVfnUxr

— sortilegus (@sortilegus) November 21, 2012
Authorities say five people have been injured in the blast.
#Afghanistan If @TOLOnews said true it's a #French restaurant named "Le Jardin de #Taimani" at street 9 in #Kabul. pic.twitter.com/LDCYvBX8Tp

— Marshall FR (@Chief_MarshallR) January 1, 2016
The Taliban claimed responsibility for the attack and said a number of people have been killed or injured.
The restaurant is situated in the heart of the central district the site of government buildings and embassies.
The eatery is known as a haven in Kabul with good food and discreet, but tight security.