Pope Francis calls for an end to injustice in his first, solemn, mass of the New Year
Comments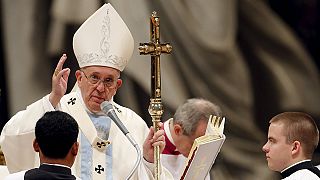 Pope Francis has urged people to combat the "torrent" of misery, injustice and violence in the world.
The pontiff was speaking as he celebrated his first mass of the year for about 10,000 faithful who had gathered in St Peter's Basilica.
Francis said that while the negative signs in the world could lead some to think that God is absent, people should see God in the compassion that exists in many people and places.
The mass came on the day the 1.2 billion-member Roman Catholic Church marks its annual World Day of Peace.