New year sees more migrants make perilous journeys to Lesbos
Comments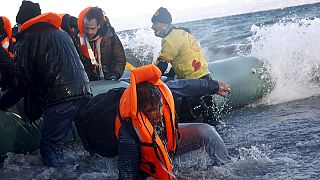 New Year's Day on the Greek island of Lesbos has seen the arrival of more migrants, seeking sanctuary in Europe.
Groups are continuing to make the hazardous crossing from Turkey, despite winter weather and increased border controls.
More than a million people braved the seas in 2015 to get to Europe.
Chinese artist and activist Ai WeiWei has visited Lesbos to see what conditions are like for those arriving.
He has called for the international community to do more to help Greece tackle the influx.
"The situation is getting very rough in the past week because weather is getting colder and the wind is very strong. The whole facility and the effort people (are) making is quite fragile," he told reporters.
NGOs and local groups have also been assembling a massive peace sign out of old life vests on Lesbos, in a bid to keep the plight of migrants and refugees in the spotlight.
"We had 2,500 life jackets approximately and 60 volunteers, and we want to send the message of safe passage to the world on New Year's Day. Peace," said Paul, a volunteer.
The peace sign is also to remember those who have lost their lives.
Last year, more than 3,770 migrants and refugees died while making perilous journeys across the Mediterranean Sea. It is said to have been the deadliest year on record.