What were the most pirated TV series and movies this year?
Comments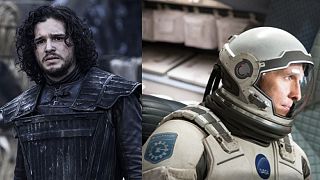 Forget the television viewing figures or box office receipts.
The latest end-of-year 'Top Ten' list is dedicated to illegal downloads of entertainment, with pirates seemingly busier than ever, accessing shows and films using forbidden means.
Sweeping fantasy epic 'Game of Thrones' and big-budget space adventure 'Interstellar' are respectively the most pirated TV series and movie of 2015.
Globally, piracy of both small and big screen categories is on the rise,especially on peer-to-peer file sharing software BitTorrent.
Entertainment magazine Variety has been analysing figures provided by the piracy tracking company Excipio.
Variety says that while the most pirated movie of 2014 was 'Wolf of Wall Street' – with just over 30 million illegal downloads – this year's number one, 'Interstellar' attracted almost 47 million downloads.
What is more, the rise in pirating means that 'Wolf' would not have even made the top 10 in 2015.
"Popular movies from the previous year spend more cumulative time in circulation among pirates," says Variety, explaining why 2014 films are included in this year's tally.
Most Pirated Movies in 2015
The figures for the most illegally downloaded TV shows are also staggering.
They are provided by the TorrentFreak news website which says: "For the fourth year in a row 'Game of Thrones' has taken the crown for the most pirated TV-show on the Internet."
The most pirated episode of the series commanded an estimated formidable 14,400,000 downloads on BitTorrent.
Most Pirated TV shows on BitTorrent in 2015
According to TorrentFreak, 'Game of Thrones' broke another pirating record in 2015.
On June 15, a phenomenal 258,131 people shared a single torrent [file used to download] of the season finale.