Britain's growth revised downwards suggesting recovery losing momentum
Comments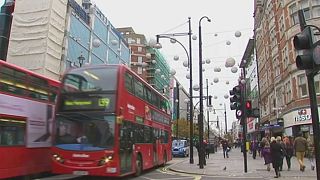 The British economy grew at a slower rate than previously estimated during at least half of 2015, according to official data.
Weaker growth in the large services sector, the UK's engine, may give analysts cause for concern.
The Bank of England has more food for thought as it ponders when to raise interest rates.
Figures from the Office for National Statistics show the economy expanded by 0.4 percent in the third quarter compared with a previous estimate of 0.5 percent.
The second quarter has also been revised downwards, to 0.5 percent from 0.7.
Annual growth rates for both second and third quarters have also been lowered.
The latest figures for the third quarter showed a rise in consumer spending, helped by zero inflation and higher wages. Britain's conservative government says growth is stronger than in most other developed countries, but the figures highlight the risks still facing the economy.
Some analysts have suggested that the figures show that Britain's recovery is losing momentum.