Turkey and Israel to restore full diplomatic relations
Comments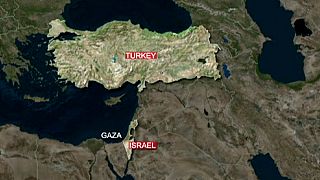 A secret meeting in Zurich on Wednesday has led to a preliminary agreement between Turkey and Israel ending a long dispute.
Cordial relations turned to ashes in May 2010 when a flotilla left Turkey for Gaza, ostensibly to bring relief, but some of the boats carried militant activists more interested in protest. When Israeli soldiers boarded the flotilla to turn it back, violence ensued, and 10 Turks lost their lives.
Now Israel has promised 20 million dollars for a fund for victims' families, and ambassadors will be exchanged. Turkey will pass a law dropping legal proceedings against Israeli officials, and it will deport a leading member of Hamas, and work to limit its activities in the West Bank.
Before the flotilla incident the two were staunch regional allies. Now with Turkey talking about importing Israeli gas to replace cut-off Russian supplies the time appeared right for a rapprochement.