Syria: Human Rights Watch issues report on government held victims
Comments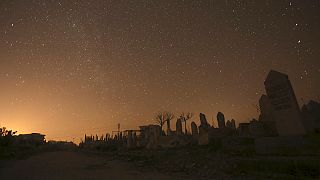 After nine months of research, Human Rights Watch (HWR) has revealed some of the human stories behind tens of thousands of photos of those believed to have died in government custody in Syria.
The images were smuggled out of the country by a military defector, codenamed Caesar, and came to public attention in 2014.
In an 86-page report entitled ""If the Dead Could Speak:Mass Deaths and Torture in Syrian Detention Facilities"":https://www.hrw.org/news/2015/12/16/syria-stories-behind-photos-killed-detainees the campaign group documents interviews with witnesses and family members to build a picture of what happened to the alleged victims.
Fourteen-year-old Ahmad al-Muslamani was reportedly detained for having an anti-regime song on his mobile phone. His uncle spent years searching for him, finally identifying his nephew in the Caesar photographs.
"I kept looking into the photographs and I was surprised to find him. It was him. It was Ahmad with a number. They put a number on him. Ahmad was a soul and he became a number," said a visibly distraught Dahi al-Muslamani, Ahmad's uncle.
HWR says that besides interviewing relatives and friends of the victims it talked to former detainees and found evidence of widespread torture, starvation and disease in Syrian detention facilities.
Details of the deaths shed new light on the conditions endured by detainees in at least five government-run detention centres, which are thought to have held at least 117,000 people since anti-regime protests broke out in March 2011.
"At first when I was detained, I was shocked by what I saw. Shocked by how emaciated people were. Shocked by the dark circles under their eyes. I was shocked and then, little by little, I became just like them," said an alleged victim whom HRW does not identify.
Human Rights Watch focused on over 28,000 of the 57,000 or so Caesar photographs. Through its research it interviewed 33 relatives and friends of 27 victims whose cases researchers verified.
Since the so-called Caesar photographs were originally published by Syrian opposition groups, the Syrian government has questioned their authenticity. Earlier this year in an interview President Bashar al-Assad said, "You can bring photographs from anyone and say this is torture…"
The report comes ahead of a 17-nation meeting of the International Support Group on Syria which is due to reconvene in New York to try to map a way out of the nearly five-year war that continues to ravage the region and reverberate throughout Europe.