Christmas adverts around the World
Comments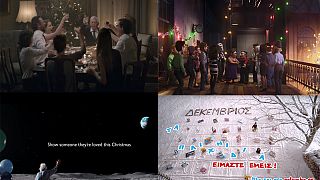 Every year hundreds of Christmas adverts hit our TV screens, trying to draw in more and more customers. Companies spend millions of euros making the best Christmas advert.
Euronews journalists from various European countries have gathered their favourite and funniest Christmas advertisements not just from 2015 but and from the previous years.
Germany
This ad by German chain Edeka sees an elderly man fake his own death to bring his family together for the festive period. In the ad, which has been viewed on YouTube almost 10 million times, a lonely old man resorts to drastic measures to bring his family together.
It starts with the man, played by British actor Arthur Nightingale, receiving a voicemail from his daughter telling him that, once again, the family won't make it home for Christmas.
United Kingdom
The loneliness of the elderly at Christmas was raised by John Lewis in its Man on the Moon ad, which has been viewed almost 20 million times.
Sainsbury's also went for the sentimental approach by resurrecting Mog the Cat for its Christmas ad, which has had more than 18 million views on Youtube.
Spain
This "Up"-style animated commercial sees mannequin factory nightwatchman Justino play pranks on his daytime colleagues by moving the figurines into funny situations. He's left devastated, however, when he's not part of the factory syndicate which wins the lottery … until his friends then come up with a lovely surprise.
Greece
Jumbo toy stores are the most famous in Greece and so are their Christmas ads.
France
A letter to Santa Claus
Little kids set up their cameras and make their complaints to Santa Claus for giving them not good presents. This year's advert from French general store Monoprix is more than funny..!! Enjoy it!
Denmark
Tuborg's familiar snow universe was introduced in 1979 on a Christmas card for ordinary Tuborg Green with the slogan 'Merry Christmas and Happy Tub'år'.
In 1980, the image was used as a poster and in early 1981 as a label on the newly launched Christmas beer, Tuborg Christmas brew.
It is strange to think that a commercial from 1984 is still popular and even in competition with much fresher, cleverer advertising in a fast-paced information society.
Portugal
Vodafone's new campaign for Christmas uses family ties and creates an ingenious advertising time.
It is the story of a family where the father and mother have separated, against the wishes of the children. And thanks to an assembly of two children, the adults' Christmas changes completely.
Russia
Coca-Cola's Russian affiliate filmed this Christmas campaign. Well-known Russo-Ukranian pop singer Elka ( meaning tree in Russian) sings the famous Christmas song. Everybody in the clip drinks Coca-Cola from a glass bottle, and anticipates the imminent arrival of Christmas. The message is once again secure in consumers' minds – the idea that the New Year holiday would be unbearable without the world's most famous drink. Today the YouTube video has been watched by more than 3.5 million people.
"Get ready for winter magic with Google!" Russian special version
Google launched a New Year campaign to continue the acclaimed "Okay, Google" to support the service "voice search". "Prepare the table, choose a gift, have fun with your friends – get ready for the winter magic with Google!", – stated in the description of the video. More than a million viewers
Italy
Get ready for a family Italian Christmas dinner at… IKEA? Yes…
Chocolates for Christmas and of course Baci Perugina. T he new spot of Christmas Baci signed by Oscar-winning director Gabriele Salvatores.
Hungary
Telenor's new campaign! A telephone company launches its new Christmas feature.