Syria: explosions in Homs leave at least 16 dead
Comments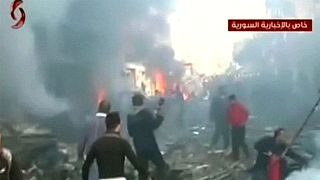 Syria has suffered another day of death and destruction. This time in the central city of Homs.
At least 16 people were killed and scores more injured, according to a group monitoring the war, when two explosions rocked a government-controlled neighbourhood.
The first bomb detonated in a vehicle. The second blast wounded people who had come to tend to victims of the first explosion.
Syrian state news agency SANA said the vehicle had been packed with 150 kilograms of explosives.
The attack come just days after the government of President Bashar al-Assad extended its control of Homs following a truce deal.
Under the terms of the agreement overseen by the United Nations, hundreds of rebel fighters and civilians were evacuated from Homs.
Syria's civil war has left more than 250,000 people dead and wounded a million.