Spanish police officers among dead in Taliban attack
Comments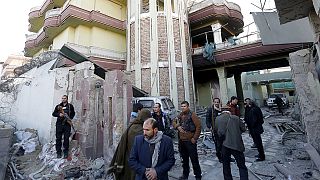 At least ten people have been killed in an attack near the Spanish embassy in Kabul. It is reported that among the dead are two Spanish police officers.
The Taliban has claimed responsibility for the assault in a heavily guarded part of the Afghani capital.
"When the attack happened, Afghans and foreign citizens were trapped in surrounding buildings including the one which was used as a guest house by Spanish citizens and we rescued them…and we could rescue at least 47 Afghans and foreigners in this attack," explained the Kabul Police Chief, Abdul Rahman Rahimi.
Three Taliban fighters believed to be responsible for the attack were also killed after hours of gunfire and explosions.
The attack comes just days after Afghan President Ashraf Ghani returned from a peace conference in Pakistan.
Earlier this week, at least 50 people died in a Taliban attack on Kandahar airport.