Bill Gates launches 'Breakthrough Energy Coalition' at COP21
Comments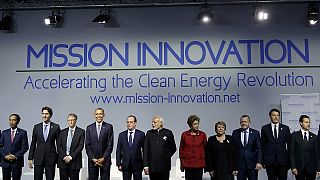 It's being called the billionaires' coalition. Rubbing shoulders with the world leaders at COP21 in Paris, some high-tech gurus are adding their weight to the battle to contain climate change.
Bill Gates has united more than two dozen from the industry to launch the Breakthrough Energy Coalition – whose aim is to advance the production of clean energy.
"The increased governmental research and private investment are to address climate change and to reduce the cost of energy, to reduce poverty. We need to move to sources of energy that are even cheaper than the hydrocarbon energy we use today. We need it to be not only clean, but also reliable," said the Microsoft founder.
Among those who have signed up are Mark Zuckerberg, Jeff Bezos, Jack Ma, Richard Branson and George Soros.
The investors who include hedge fund billionaires will work with 20 countries who have come together to form Mission Innovation – to boost research and development into new technologies to deliver clean energy.
Each nation has vowed to double its budget over the next five years.
Bill Gates has vowed to contribute two billion dollars into the portfolio. He believes new energy sources can be developed more quickly; until now it has often taken decades before newly invented technologies are widely deployed.
"There are dozens of things like that that are high risk but huge impact if they are successful," he said.
I'm excited to announce the Breakthrough Energy Coalition: https://t.co/C7pz3oKPNbpic.twitter.com/OE2InTVf62

— Bill Gates (@BillGates) 30 Novembre 2015