Sand sculptures stun beach-goers in Florida Keys
Comments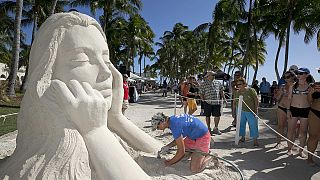 Some of the world's best sand artists are battling it out on a beach in Florida Keys as part of international competition.
Tourists have been watching all sorts of sculptures take shape, ranging from a guitar and tree tribute to Jimi Hendrix to a depiction of the new Sta Wars villain Kylo Ren.
Each of the artists taking part is given 15,000 pounds of sand and are only allowed to use water and simple tools to come up with their creations.