Tour operator threatens to jump from Colosseum in Rome
Comments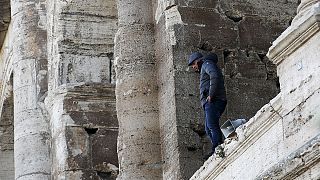 He came down in the end but there were worrying scenes at Rome's Colosseum on Friday when a man threatened to jump from a ledge of the ancient amphitheatre.
The protester, a tour operator, was angry at a crackdown restricting tours as security measures tighten ahead of the Catholic Holy Year or 'Jubilee'.
A policeman said the man had reached the outer edge of the 2,000 year-old amphitheatre from inside, apparently through the main entrance.
Holy Year is one of the 1.2 billion-member Catholic church's most important events, and sees the faithful make pilgrimages to Rome and other religious sites.
City authorities said they would install new metal detectors at the Colosseum after the attacks in France.
But the fact that someone evaded security at one of Italy' most-visited sites and that police were powerless to intervene has caused concern about whether the city is ready for the Jubilee, or up to the task of protecting its citizens from the risk of attacks like the ones that killed 130 people in Paris two weeks ago.