Despite a global terrorist warning from the US State Department, Americans are bound to make this upcoming Thanksgiving weekend that starts this Thursday, one of the busiest of the year.
At airport and trains stations, they will be facing more intense screening and longer security lines, yet roughly one sixth of the population will take a plane, ride a train or hit a highway.
US authorities note that there is no specific threat to transportation networks, but that precautions to keep travelers safe are being stepped up.
The Port Authority of New York and New Jersey, which runs three of the country's busiest airports and other travel hubs, said its police force is on "heightened alert" at all facilities.
"Actions include increased patrols and checks of bags, buses, trucks and trains at agency locations. Travelers also are reminded to remain vigilant and report any suspicious activities to police or other authorities," the agency said.
In addition, the agency, in a tweet on Monday, recommended extra time when getting to airports.
High traffic volume expected at PANYNJ</a> airports. Allow extra time getting to airports &amp; for check-in. <a href="https://twitter.com/hashtag/Thanksgiving?src=hash">#Thanksgiving</a> <a href="https://t.co/xBIMe2hoQP">pic.twitter.com/xBIMe2hoQP</a></p>&mdash; EWR JFK LGA SWF (NY_NJairports) 2015. november 25.
Not only New York's and the rest of the nation's airports will be busy, highways and interstates will be packed, as well.
![](https://static.euronews.com/articles/317759/600x385_thanksgiving air travel.jpg)
This year, almost 47 million Americans are packing their bags and planning to roam at least 50 miles (80 kilometers) beyond home for Thanksgiving, the American Automobile Association (AAA) is forecasting.
Nationally, this comprises a 0.6 percent increase over the 46.6 million people who made the annual pilgrimage during the 2014 Thanksgiving holiday season. That's the most since 2007.
Despite improvements in the economy, including steady wage growth, rising disposable income and a falling unemployment rate, consumers remain cautious about their finances, AAA said.
However, gas prices remain well below 2014 levels, providing an early holiday bonus to the more than 89 percent of holiday travelers who will drive to their destinations by car.
![](https://static.euronews.com/articles/317759/600x461_Thanksgiving traffic.jpg)
"One holiday gift has come early this year. Americans will likely pay the lowest Thanksgiving gas prices since 2008. Lower prices are helping boost disposable income, and enabling families to kick off the holiday season with a Thanksgiving getaway," AAA added.
Thanksgiving is the most quintessential American holiday. It honors the arrival of the first Pilgrims at Plymouth Rock in what is today the state of Massachusetts in New England back in 1620.
The Pilgrims were extremely poor and too weak to fight the local Natives Americans. Instead, they developed – at least in the early years – a relationship of respect and mutual support with them.
When the Plymouth community survived its first year in 1621, they invited the Natives to celebrate their first harvest in the New World with them – a three-day feast called "thanksgivings" or "days of prayer".
![](https://static.euronews.com/articles/317759/600x382_First Thanksgiving.jpg)
Today, Americans honor this crucial episode of their early history as one of the major holidays of the year, together with Christmas and New Year.
It has been celebrated as a federal holiday in the US every year since 1863, when, during the Civil War, President Abraham Lincoln proclaimed a national day of "Thanksgiving and Praise to our beneficent Father who dwelleth in the Heavens", to be celebrated on the last Thursday in November.
The poor are often provided with food at Thanksgiving time. Most communities have annual food drives that collect non-perishable packaged and canned foods, and corporations sponsor charitable distributions of staple foods and Thanksgiving dinners.
The Salvation Army enlists volunteers to serve Thanksgiving dinners to hundreds of people in different locales.
![](https://static.euronews.com/articles/317759/600x355_Thanksgiving Salvation Army dinner.jpg)
Most Americans celebrate Thanksgiving as multi-generational families. At the center of the get-together is a large dinner, traditionally served on Thursday night and made of foods native to the New World.
Very typical is this (made many times by the author): roasted turkey stuffed with bread, apples, prunes and raisins, although the stuffing really knows no limits.
Alongside the bird come mashed sweet potatoes, potato dumplings, red cabbage, green beans, carrots, corn on the cob, deviled eggs. For dessert, various pies are often served, particularly apple pie, pumpkin pie, chocolate cream pie or pecan pie.
The beverages at Thanksgiving can vary as much as the side dishes, often depending on who is present at the table and their tastes. Spirits or cocktails sometimes may be served before the main meal. On the dinner table, unfermented apple cider (still or sparkling) or wine are often served.
Pitchers of sweet tea can often be found on Southern tables. Beaujolais nouveau is sometimes served, as "Beaujolais day" falls before Thanksgiving.
After dinner, the party typically moves to the living room to watch pro (American) football games – a perfect background program for digesting and catching up with the family.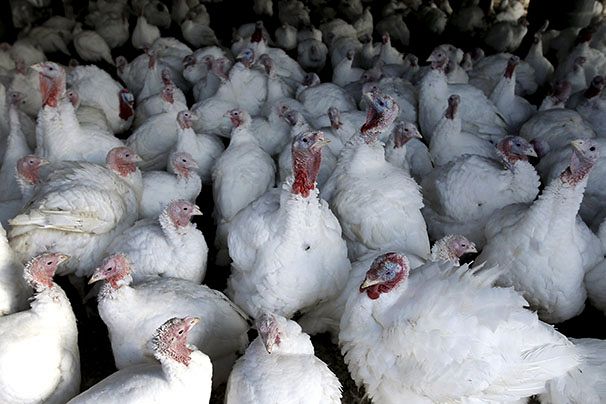 During the cooking period in the morning, many Americans watch Macy's Parade live from New York City and re-runs of popular television series, some of them decades-old: Peanuts, The Waltons, Beverly Hills 90210 or The Bob Newhart Show.
When midnight rolls along, some of those still standing put on their coats and head for shopping malls, as stores across the country open their doors for Black Friday sales events. But that is another story…