Row over Syrian refugees divides America
Comments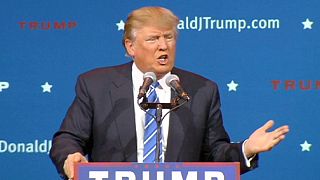 A row over resettling Syrian refugees in the United States is raging nationwide.
Some Republicans like billionaire businessman and presidential hopeful Donald Trump are warning that so-called Islamic State could be trying to smuggle militants into the country.
"This could be the greatest Trojan Horse of all time," Trump told a campaign rally at Worcester, Massachusetts.
"You look at that migration and I am looking at it. And I am the first one to bring it up. Three weeks ago, I am sitting. I said: 'Isn't that a shame.' Then I said to myself: 'Wow, they are all men.' And then you look at what five or six people did in Paris. And we have to get smart."
Reports that at least one attacker in Friday's Paris massacre may have slipped into Europe among migrants registered in Greece has prompted several Western countries to question their willingness to take in refugees.
But Democrats like Colorado Governor John Hickenlooper, see things very differently.
"The majority of the Syrian refugees are women, children and elderly," he said on Wednesday.
"It has been pointed out that many of these families are the families of people that exemplified American values, opposed the other factions in Syria, really were our allies."
"Welcoming the world's vulnerable who seek the safety of America is not new to us," tweeted President Barack Obama, standing by his pledge to admit some 10,000 refugees from Syria within the next year.
Welcoming the world's vulnerable who seek the safety of America is not new to us. We've safely welcomed 3 million refugees since 1975.

— President Obama (@POTUS) 18 Novembre 2015
Slamming the door in the face of refugees would betray our deepest values. That's not who we are. And it's not what we're going to do.

— President Obama (@POTUS) 18 Novembre 2015
The White House says Obama would veto a proposal from Republican lawmakers in the US House of Representatives, calling for additional scrutiny of refugees from Syria or Iraq.
The proposed requirements "would provide no meaningful additional security for the American people, instead serving only to create significant delays and obstacles in the fulfillment of a vital program that satisfies both humanitarian and national security objectives," it said.
Both the House of Representatives and the Senate would have to approve the legislation for it to get to Obama.
The United Nations refugee agency (UNHCR) has expressed concern about reactions in some countries in the aftermath of last weekend's events in France.
UNHCR spokesperson Melissa Fleming has stressed that the vast majority of those coming to Europe are fleeing persecution and conflict.
"Many are fleeing extremism and terrorism – from the very people associated with the Paris attacks," she said.
"A world that welcomes Syrians can help defeat extremism. But a world that rejects Syrians, and especially Muslim refugees, will just feed into their propaganda."
Refugees must not become scapegoats for the very same violence so many of them flee https://t.co/QiCejP0ceBpic.twitter.com/i0kPPAD4Vk

— UN Refugee Agency (@Refugees) 19 Novembre 2015