Violence in Athens as Greece marks anniversary of key student revolt in 1973
Comments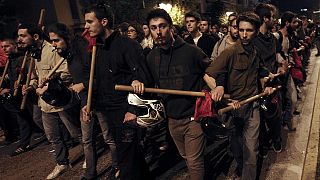 A march marking the 42nd anniversary of a student revolt that signified the beginning of the end for Greece's military junta has ended in violence.
Riot police clashed with protesters near what is now Athens Technical University.
Petrol bombs and rocks were thrown at police, reported Reuters.
Earlier, anti-government student factions threw water bottles at Syriza ministers who accompanied Prime Minister Alexis Tsipras to a wreath-laying ceremony.
For some, the anniversary of the 1973 revolt was an opportunity to voice their anger at contemporary policy.
Many on the far left accuse the Tsipras government of betraying the principles that first brought him to power.
Our correspondent says after the end of the peaceful demonstration a group of anti-establishment protesters headed to the Exarchia district where the former Athens Polytechnic is located. They clashed with the police forces. Molotov cocktails and rocks were thrown at the police. At least one protester was arrested.