White House race jolted by jihadist slaughter in Paris
Comments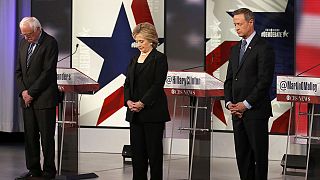 The terrorist attacks in France have already had an impact on the race for the White House, with presidential hopefuls condemning the violence, criticising each other for failing to tackle the rise of Islamic extremism and offering their own remedies for reducing the risk.
Saturday's second debate for Democrats seeking their party's nomination for next year's election began with a moment's silence to honour the 129 people killed in the bomb and gun attacks the day before in Paris.
The contentious discussion that followed in Des Moines, Iowa, between frontrunner Hillary Clinton and her rivals Bernie Sanders and Martin O'Malley focussed on foreign policy in a dramatic shift in emphasis in a Democratic contest that has so far been dominated by domestic economic issues.
Sanders linked Clinton's US Senate vote in 2003 authorising the invasion of Iraq to the regional chaos that followed, calling it "one of the worst foreign policy blunders in the modern history of the United States".
"I would argue that the disastrous invasion of Iraq, something that I strongly opposed, unraveled the region immensely, and led to the rise of Al Qaeda and to ISIS," said Sanders, a US senator from Vermont.
"I don't think any sensible person would disagree that the invasion of Iraq led to the massive level of instability we are seeing right now," he said.
Clinton, who has frequently called the Iraq vote a mistake, said it should be placed in the historical context of years of terrorism before the invasion.
"This is an incredibly complicated region of the world. It's become more complicated. And many of the fights that are going on are not ones that the United States has either started or have a role in," she said.
Expressing sympathies for the people of France, the former US Secretary of State said that prayers were not enough.
Hillary on the terror attacks in Paris at the #DemDebate: https://t.co/ov0lBwpS4W

— Hillary Clinton (@HillaryClinton) 15 Novembre 2015
Clinton argued that countries in the region would have to play a major role in resolving the Syrian conflict and said:
"We need to have a resolve that will bring the world together to root out the kind of radical jihadist ideology that motivates organisations like ISIS."
She also urged the Obama administration to increase its plan to accept 10,000 Syrian refugees, saying:
"We should go to 65 (thousand), but only if we have as carefully screening and vetting process as we can imagine, whatever resources it takes," she said.
Among Republicans, presidential contenders have also expressed solidarity and sympathy for the French people.
But there has been criticism for what White House hopefuls say is President Obama's inadequate response to the rise of ISIL in Iraq and Syria.
Frontrunner Donald Trump picked up on Obama's remarks, made in an interview aired on Friday, that so-called Islamic State has been contained.
President Obama said "ISIL continues to shrink" in an interview just hours before the horrible attack in Paris. He is just so bad! CHANGE.

— Donald J. Trump (@realDonaldTrump) 14 Novembre 2015
And amid reports that a Syrian passport belonging to a migrant who had passed through Greece had been found near the bodies of one of the suicide bombers, Trump and Ted Cruz called on the Obama administration to reconsider plans to allow thousands of Syrian refugees to be resettled in the United States.
"With the problems our country has, to take in 250,000 people, some of whom are going to have problems, big problems, is just insane," Trump said at a rally on Saturday in Beaumont, Texas.
In an interview with Fox News, Cruz, a senator from Texas, called taking in refugees "lunacy".
Jeb Bush said he was not surprised by the Paris attacks, given the rise in ISIS-related violence, in what he called "an organised effort to destroy Western civilisation".
The terror attack in Paris is part of an organized effort to destroy Western Civilization and we must defeat it https://t.co/MGBV2NTyxs

— Jeb Bush (@JebBush) 14 Novembre 2015
While Bush called it "the war of our time", Marco Rubio, the US senator from Florida, put the Paris attacks in the context of what he said was "a clash of civilisations".
The #ParisAttacks are a wake up call. This is a clash of civilizations. Either they win or we win. https://t.co/9Ydjxy8KCi

— Marco Rubio (@marcorubio) 14 Novembre 2015
Another leading contender, Dr. Ben Carson, has previously said that no Muslim should be eligible to be elected president.
The retired neurosurgeon, who is popular with evangelical voters, took to Twitter to send his thoughts and prayers to the people of Paris and tweeted a quotation from the Bible.
You, Lord, keep my lamp burning; my God turns my darkness into light. (Psalm 18:28)

— Dr. Ben Carson (@RealBenCarson) 14 Novembre 2015
The last presidential election to turn on national security is widely viewed to have been in 2004, three years after the September 11, 2001 attacks on New York and Washington, when President George W. Bush was re-elected over Democratic challenger John Kerry.
Since then, the economy has preoccupied American voters.
But with the nation's economic health on the upswing and the threat of Islamic terrorism now looming in Europe, that may change.