Remembering a giant of German politics....
Comments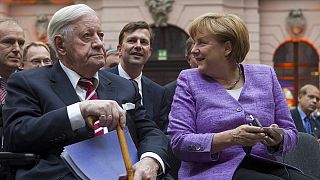 Floral tributes as well as personal accolades have been paid to the former West German Chancellor Helmut Schmidt who has died at the age of 96.
He was the architect of the euro and he helped to consolidate Germany's post-war economic boom – today's Chancellor Angela Merkel was full of respect:
"His personal modesty as well as his sense of duty impressed us. Helmut Schmidt was a political institution of Germany and he was for me an authority whose advice and judgement meant something to me."
Schmidt the Social Democrat was a significant leader on the world's stage. He steered his country through tumultuous times and he stood up to home grown terrorism..
He'll was also a skilled diplomat who eased Cold War tensions, forged a lasting relationship with France and laid the foundations for the European Union.
Schmidt's passing has provoked fulsome coverage and some of his own comments on social media:
Life is transitory, but deeds are what remains, and what makes a Great man immortal.
Rest in peace #HelmutSchmidtpic.twitter.com/lVQAuahq4y

— Zlatko Lagumdžija (@LagumdzijaZ) November 10, 2015
"The stupidity of governments should never be underestimated." – Helmut Schmidt

— Jens Foell PhD (@fMRI_guy) November 10, 2015
Sad news: Former Chancellor Helmut Schmidt passed away on November 10. He was one of the greatest political leaders of Germany. G.W.

— Kedutaan Jerman (@KedubesJerman) November 11, 2015