Myanmar: Aung San Suu Kyi waits patiently for official elections results to confirm landslide win
Comments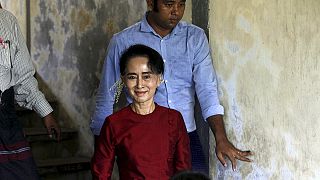 Although only a fraction of results have been officially announced, opposition supporters are claiming a landslide win in Myanmar's historic election.
Aung San Suu Kyi's National League for Democracy (NLD) has so far won most of the seats declared – 49 out of 54 – but the NLD's own tally of results has them taking at least 80 percent, easily surpassing the 67 per cent needed for an overall majority.
Suu Kyi heads for landslide victory in #Myanmar election: https://t.co/6NJCsf5aRlpic.twitter.com/2m3TEQGScy

— Reuters Top News (@Reuters) November 9, 2015
The public is electing 168 of the 224 representatives in the upper house of the national parliament, with the remaining quarter of seats reserved for lawmakers appointed by the military.
In the lower house, 325 of the 440 seats are up for grabs. Another 110 are reserved for military appointees, while voting has reportedly been canceled in the remaining five electable lower house seats because of security concerns.
One 78-year-old voter said the election results meant he was looking forward to freedom:
"I hope we will be free now from the repression. I think Suu Kyi's party can bring freedom for us as I have only experienced governments that always controlled us. This is what I guess will happen but I am not sure yet. All depends on them."
This is Myanmar's first free national election in 25 years and comentators describe the county as being on the brink of change. The ruling military backed Union Solidarity and Development Party (USDP) has already conceded defeat….. but the full official results could take several days.
Despite the jubilation being expressed by NLD supporters as mentioned, the junta-drafted constitution guarantees one quarter of parliament sees to unelected members of the military and it also allows the commander-in-chief to nominate the head of three powerful ministers: interior, defence, and border security.
Under the constitution Aung San Suu Kyi , the woman who has become Myanmar's democracy figurehead, is barred from taking the presidency herself as she has foreign children. Her two sons with her late husband are British.