EasyJet's 20th birthday present to frequent flyers
Comments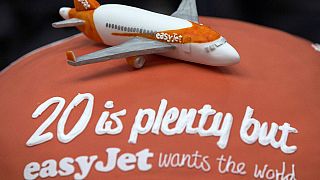 Twenty years ago exactly, on 10 November 1995, an aircraft with an orange logo took off from Luton in England and flew to Glasgow in Scotland.
EasyJet is now celebrating two decades in service by offering an unusual thing for a low-cost airline: loyalty benefits for frequent travellers. It said it would reward customers who fly with it more than 20 times a year by offering them benefits such as flight changes for free.
Europe's second-largest budget carrier argues it's doing better than some of its traditional rivals.
"One of the opportunities for us is that legacy carriers have so many different plates spinning, whether its restructuring , whether it's unions, whether it's the big head offices and the infrastructure costs, long-haul, short-haul we don't have that. We have very clear objectives, very clear goals. We do short-haul Europe and we look after our passengers. We're very focused, that gives us a lot of ability to compete and continue to compete with them," said Chief Executive Carolyn McCall.
The gap between the so-called legacy carriers and low-cost airlines has narrowed in recent years. Traditional carriers have cut fares; EasyJet has lured business travellers with perks similar to those offered by rivals, such as flexible ticketing and complimentary seat reservations.
McCall also said EasyJet backed the British government's efforts to tighten security at some airports, following concern that a bomb may have caused a Russian airliner to crash over the Sinai peninsula after taking off from Sharm el-Sheikh.
The airliner says it hopes to return 2,000 of its passengers from the Egyptian Red Sea resort by the end of the weekend, after flights were halted in the wake of the crash.