Athletes challenge validity of Russian medal winners
Comments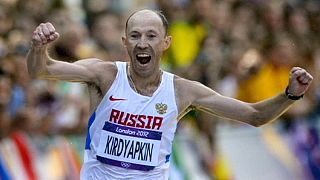 In light of the doping revelations some athletes are questioning the results of competitions involving Russians. At London 2012 Australian Jared Talent lost out on a gold medal to Sergei Kirdyapkin in the 50km walk. The Russian was found guilty of doping earlier this year and given a 38 month suspension.
"The allegations are absolutely shocking to find out the man who beat me in London, Sergei Kirdyapkin, probably should have been banned as early as 2011," Talent told reporters. "But the IAAF held off from banning him until after the Olympic Games in London, it's pretty devastating. It makes you very angry just to know that your international federation, the sporting body that should be protecting clean athletes, was looking after the dope cheats."
Some high-profile athletes have backed the call for Russia to be banned from international competition if the doping claims are true, including the women's marathon world record holder, Britain's Paula Radcliffe.
"Shock, not that there was something going on, because we've known that for a while now, but at the the scale of it. The audacity, really, that people thought they could get away with this and that they have got away with it for so long. It isn't just athletics that this report exposes, it's all sports. It now needs to stop being cycling against athletics and all these sports. It's clean sport against doping, and we need to move forward together."
But on Tuesday the chief executive of Australia's athletics body, Phil Jones, said there's not enough time for Russia to prove its clean for next year's Olympics in Rio de Janeiro.