New destinations seek to get in on the act at World Travel Market
Comments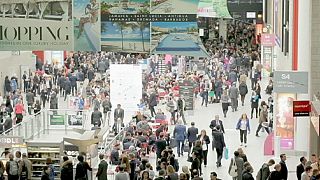 The tourism industry's leading global event includes some 250 new exhibitors this year.
At the 2015 World Travel Market in London, upcoming tourist destinations have a unique chance to put themselves on the map.
Georgia likes to call itself "Europe's best kept secret" –
but that could be about to change.
"Last year we have received 5.5 million international visitors and this year will be like 6 million international visitors. The population of Georgia is just 3.7 million," said George Chogovadze, head of the Georgian National Tourism Administration.
Recognising tourism's potential, some countries such as Kazakhstan have got rid of visas for most visitors.
But in Europe the opposite is often happening.
Restrictive visa policies towards markets such as China, India, Russia, or Turkey mean billions of euros in lost revenue.
If we delivered visa-free travel from these top ten tourism markets to Europe over the next five years, we could see an additional 84 million visitors coming to the continent here spending more than 114 billion euros," said Mark Henry, Vice-President of the European Travel Commission.
In Asia, the Philippines is trying to boost the visitor appeal of the whole country. Last year tourism accounted for eight per cent of GDP.
"Ultimately the entire nation has to be ready to accept tourism and that everybody should play a role in making sure that the experience of every visitor is a fun one," said Domingo Ramon C. Enerio III, President of the Tourism Promotions Board in the Philippines.
There are deals to be done but competition is fierce.
It's a good moment for eye-catching offers.
Kenya for instance says it's to subsidise charter airlines flying tourists to the coast.
Euronews correspondent Sebastian Saam reported from the World Travel Market:
"Colourful, appealing, and open to the world. This is how every country wants to present itself at the World Travel Market, gathering together the tourism industry's main decision makers. It's about trends, it's about latest developments, but it's also mainly about one thing: business."