Migrants: the first EU relocations leave Athens
Comments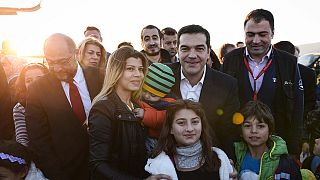 Six families from Syria and Iraq have boarded a plane leaving Athens for northern Europe.
They are the first refugees to be relocated from Greece to Luxembourg under an EU plan agreed in September.
Wishing farewell to first #refugees relocated from #Greece w PM tsipras_eu</a>, com <a href="https://twitter.com/Avramopoulos">Avramopoulos &FM #Asselborn 1/2 pic.twitter.com/qbTk4D4RNQ

— EP President (@EP_President) 4 Novembre 2015
The group posed for "selfies" with the Greek prime minister, Alexis Tsipras, the European Parliament's president, Martin Schulz, and Luxembourg's foreign minister, Jean Asselborn, on the runway at Athens international airport.
It is part of a €780m, two-year EU plan to help front-line border nations who have borne the brunt of arrivals during this year's migrant crisis.
The crisis for Greece in numbers
580,000 – the number of people have entered Greece from Turkey since January.
This represents a huge challenge for Athens as it battles to recover from the financial crisis.
50,000 – the refugees will be given temporary accommodation in Greece with the support of the UN.
160,000 – the number of asylum seekers approved for onward transfer to other EU states by Brussels in September
86 – refugees who have been transferred from Italy to Finland and Sweden under the scheme.
*Disagreement between Member States
Some EU member states are unhappy that Brussels has set mandatory quotas for accepting refugees.
#Breaking EU split over refugee quotas before crunch meeting Read More : https://t.co/WrMKAYOGAs

— PoliticsNext (@PoliticsNext) 11 Septembre 2015
Hungary's Prime Minister Viktor Orban has warned of a potential "democracy crisis" over migrant quotas, which he claims were decided without respect for public opinion.
Hungary's Orban warns of "democracy crisis" in Europe over migrant quotas https://t.co/v7dFRlOOeG

— Breaking EU News (@BreakingEUNews) 31 Octobre 2015