Michelin to shed 1,600 jobs in European plant shake-up
Comments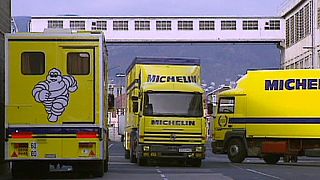 Michelin says it is closing several European sites with the loss of around 1,600 jobs as part of a major restructuring plan.
The French tyre company said in a statement that the competitive environment and the economic crisis of the past few years had lastingly affected the European tyre market.
However is to boost investment at other plants.
The truck tyre factory at Ballymena in Northern Ireland which employs 860 people is to be run down, eventually closing in 2018.
Michelin proposes winding down its Ballymena plant by mid 2018 & will provide consultation & employee support. More: https://t.co/7QtTy5HFoy

— Michelin (@MichelinTyres) November 3, 2015
But Michelin says investment at other sites in England and Scotland will create over 100 posts.
Nearly 580 jobs are to go in Italy, 400 of them at the Fossano site which will close in 2016. Another 180 jobs are set to be lost with the closure of the Oranienburg site in Germany.
Michelin says the changes mean the company will incur a loss of 280 million euros this year.