Volkswagen puts brave face on crash into the red
Comments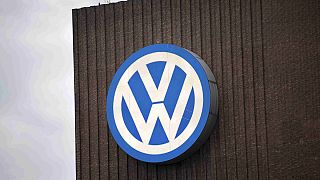 Volkswagen plunged into the red in the third quarter, the first such loss for 15 years.
The reason is the 6.7 billion euros set aside to deal with the aftermath of the diesel emissions tests scandal, which broke towards the end of the July to September period.
Despite an overall operating profit for the year so far, and an increase in sales revenue year-on-year, VW acknowledged the "negative" impact of the "diesel issue" in the summary of its latest quarterly report.
From a healthy operating profit of 3.23 billion euros at the same stage last year, VW swung into an almost equivalent loss of 3.48 billion euros.
It accepts the money earmarked to cover costs may just be the start.
In the meantime VW will delay the launch of a diesel car in Japan. At the Tokyo Motor Show the company again apologised.
"Our customers' confidence and trust is what is most important to us and we are doing everything what we can to win back this trust in our brand and in our great products. We will uncover and disclose the full truth of what happened and we will make sure that something like this never happens again," said Herbert Diess, CEO of Volkswagen's Passenger Cars brand.
Almost six weeks since VW admitted using illegal software to cheat diesel emissions tests, Europe's largest carmaker is under pressure to identify those responsible and still has to fix 11 million affected vehicles.
The loss is broadly in line with analysts' forecasts. WV said it now expects its operating profit to drop "significantly below" last year's record 12.7 billion euros.
However the company insists it is financially robust enough to weather the storm.
Matthias Müller unveils next steps for #VWGroup. Please read here: https://t.co/GrKyaE9RYIpic.twitter.com/uzjQPv5FRw

— Volkswagen News (@vwpress_en) 28 Octobre 2015
US complains of #VW intransigence on emissions investigation https://t.co/yDHRF8EA3Gpic.twitter.com/VXEbm86Dqn

— The Local Germany (@TheLocalGermany) 28 Octobre 2015
Lancaster's Professor Bryan Lukas on lessons we can learn from #VW in terms of #branding: https://t.co/hh5mbEZJzO

— Lancaster University (@LancasterUni) 28 Octobre 2015