Toyota overtakes Volkswagen to top world car sales list
Comments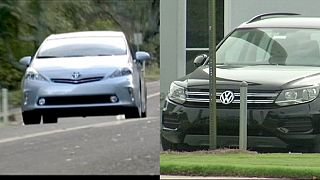 Toyota has taken over from Volkswagen as the world's number one car manufacturer in terms of sales.
As the diesel emissions scandal hit the German carmaker, its Japanese rival regained the top spot it had previously held for three years – but had lost in the first six months of this year.
In the nine months to the end of September, Toyota said it sold 7.49 million vehicles.
Volkswagen reported 7.43 million sales earlier in the month. Both companies' sales declined by 1.5 percent on the same period last year.
In third place, General Motors reported sales of 7.2 million vehicles, a decline of 1.9 percent.
In the first six months of 2015 Toyota's sales lagged slightly behind those of VW. The Japanese group is now tipped to be the bestseller for the year as a whole. It plans to take on an extra 1,400 workers in Japan to boost production of new and revamped models.
Volkswagen's sales figures cover less than two weeks of the immediate period following the revelation that VW had cheated regulators about pollution levels – so the impact was minimal.
Analysts expect VW's gloom to set in more substantially in the fourth quarter.