Calais: Cazeneuve rejects high-profile attack over "The Jungle"
Comments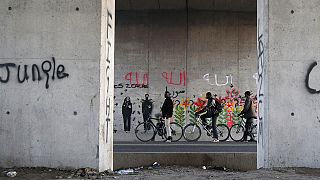 The French Interior Minister has rejected accusations that his government is not doing enough to improve conditions in the enormous migrant camp at Calais.
A group of French figures, including former footballer Eric Cantona and award-winning economist Thomas Piketty has called on the government to improve conditions in the sprawling migrant camp near Calais.
A la une ce mercredi, l'appel des 800 pour sortir la jungle de Calais de l'indignité
https://t.co/tYyfNwsPI9pic.twitter.com/w1jhnq0K5c

— Libération (@libe) October 20, 2015
Meeting police and politicians in Calais today, Bernard Cazeneuve said he shared the group's concerns but rejected accusations that the government is not doing enough.
A #Calais avec les policiers mobilisés pour sécuriser le port pic.twitter.com/DD18XUNacz

— Bernard Cazeneuve (@BCazeneuve) October 21, 2015
The group listed inadequate food, showers, lavatories and a scabies epidemic as its primary concerns.
They condemned the conditions as "a disgrace to a rich nation" and called on the government to act.
.BCazeneuve</a> : "aux 225 gendarmes et 440 CRS présents aujourd&#39;hui, s&#39;ajouteront 300 gendarmes et 160 CRS opérationnels dès demain"</p>&mdash; Ministère Intérieur (Place_Beauvau) October 21, 2015
6000 refugees and migrants from countries like Iraq, Sudan and Eritrea are living in the open in a makeshift camp with limited access to food, water and adequate shelter.
Cazeneuve said that 13 million euros has been invested in an on-site welcome centre and gave a commitment that housing would be provided for vulnerable women and children.
He announced new measures to house those living at the camp.
Calais : Cazeneuve annonce de nouveaux moyens pour l'hébergement des migrants https://t.co/4fr8xpNquLpic.twitter.com/XKbuLxugGT

— Les Echos (@LesEchos) October 21, 2015
.BCazeneuve</a> a rappelé qu'aucune femme ni aucun enfant ne demeurera privé d'abri à <a href="https://twitter.com/hashtag/Calais?src=hash">#Calais</a></p>&mdash; Ministère Intérieur (Place_Beauvau) October 21, 2015
The call from 800 artists and intellectuals was published in the "Libération" newspaper under the headline "How long are we going to remain silent?"
.BCazeneuve</a> a annoncé que des tentes chauffées seront montées cette semaine <a href="https://twitter.com/hashtag/Calais?src=hash">#Calais</a></p>&mdash; Ministère Intérieur (Place_Beauvau) October 21, 2015
Cazeneuve also warned of the risk of opening the border with the UK:
"Given the current context, the control and security of the border is the only responsible reaction to this crisis. Sending out the signal that the Franco-British border would not be monitored and that crossing to the UK would be possible or easy would immediately lead to a massive and uncontrollable influx of migrants."