Carrefour sales speed up due to Europe 'growth engine'
Comments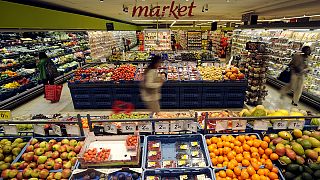 Europe's largest retailer Carrefour says sales accelerated in the third quarter, driven by a recovery in southern Europe, and a good performance in its core market of France.
It also says sales are holding up in Brazil despite a slowing economy.
But in China the figures suffered due to weak consumption. Carrefour says it is pursuing its action plan there – expanding in e-commerce and convenience stores and opening logistics centres to cut costs.
Third-quarter sales globally reached 21.54 billion euros, in line with analysts' expectations of 21.5 billion.
Revenue grew by 4.2 percent – ignoring fuel and currency effects – almost doubling the rate of growth (2.6 percent) in the second quarter.
"Europe has now become the group's growth engine. This excellent third quarter confirms the group's good momentum in the last three years," Carrefour's finance head Pierre-Jean Sivignon said.
#Sales Excellent Q3 2015 sales: continued momentum http://t.co/enCNrRsDVp#growth

— Carrefour (@CarrefourGroup) 16 Octobre 2015