And also...Dancing tampons, stripping teachers and the ex-boxing champ who is 'no sausage'
Comments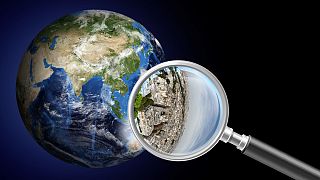 Every Friday journalists from euronews' various language teams choose a selection of stories from Europe and beyond, which did not reach the international headlines.
Sweden: Dancing tampons help take the stigma out of menstruation
Tampons dancing like puppets are the stars of the show on the Swedish kids TV station Barnkanalen which is aiming to destigmatise menstruation for the young. The host of the programme sings a song to accompany the merriment on a children's channel that already caused a stir earlier this year with a video featuring dancing genitals!
Iran: The end of TV's most-popular show
Khandevaneh, a comedy show that is the most-viewed programme on Iranian television, has broadcast for the very last time.
It was considered a revolution in the history of TV and radio in the Islamic Republic, notably because of the use of rhythmic folk music which is normally banned by Iranian media.
It was also popular because it crossed the moral red line, imposed by Iran's Conservative rulers.
The expression Khandevaneh is a combination of two words, Khandeh (laugh) and Hendevâneh (water melon). It was translated into English literally as 'laughmelon', by The Guardian
Standup Comedy Show gives Iranians a Reason to Laugh | via @guardianhttp://t.co/VMNiYTeuyspic.twitter.com/bxbN1uBzYJ

— NIAC (@NIACouncil) 1 Octobre 2015
Netherlands: Tabletop striptease gives students a lesson they will never forget
Forget chalk and a blackboard. Dutch biology teacher Debby Heerkens has found a much more eye-opening way to instruct her students about the human body – climbing onto a classroom table and stripping off down to a spandex suit illustrating the fine detail of human anatomy! Pupils are said to have enjoyed the lesson and to have asked when they could have a similar one!
Ukraine: Boxing champ turned mayor Klitschko proves he is no 'sausage!'
Ex-world heavyweight boxing champion Vitaly Klitschko raised eyebrows when he tried and failed to perform a pull-up on a horizontal bar, during a visit to open a children's playground in his current role as mayor of Kyiv. "You hang like a sausage there" was the less than complimentary remark of one onlooker. Never one to be beaten though, the former sportsman effortlessly performed another manoeuvre on the bar, earning hearty applause from those around him. He then pledged to build dozens more playgrounds across the city.
Tunisia: Turbulent tale of the hijab-wearing flight attendant
Nabiha Jalouli, a flight attendant with Tunisair, was suspended from work for wearing a hijab.
A Tunisian court ruled against the airline's position but Tunisair still wants to fire her, regardless. It has received support from Tunisian Transport Minister Mohamed Bin Ramadan who claimed the hijab reduces hearing by 30 percent in a statement that sparked controversy.
Germany: Brace yourself – winter is coming!
Those lazy, hazy days of summer seem like a lifetime away! And with the first snow falling in eastern Germany, the Süddeutsche Zeitung has taken a look at what lies ahead – warning of a harsh winter with bitterly cold temperatures. It adds, however, that the long-term picture is difficult to predict with accuracy.
Sources