UEFA back suspended President Platini
Comments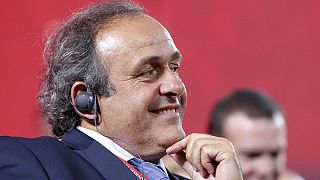 European football's governing body has backed president Michel Platini in his bid to become president of FIFA despite him being under criminal investigation over an almost two million euro payment in 2011 by Sepp Blatter.
The member associations gathered at UEFA headquarters in Nyon, Switzerland to discuss the future of Platini, who is appealing his 90-day suspension at the Court of Arbitration for Sport.
UEFA secretary general Gianni Infantino said: "The truth at the end, will be the truth that will be decided by an independent body. There is an independent body that is recognized by all sports organizations which is the CAS (Court of Arbitration for Sport). And ultimately the CAS will have to take the decision, hopefully quickly, so that we all know what the situation is.''
60-year-old Platini is being investigated over a 1.8 million euro payment made to him by Blatter in 2011 for consultancy work performed some nine years earlier – an investigation that has caused concern with several member Federations.
However following Thursday's meeting Platini now appears to have the full backing of UEFA as he attempts to succeed Blatter in football's most powerful job..
FIFA chief Blatter, who announced he would step down in May amid corruption investigations, has also been suspended as a result of the ongoing investigation.
The FIFA presidential elections are scheduled for February 26.