Obama met by pro-gun protests at scene of latest school shooting in Oregon
Comments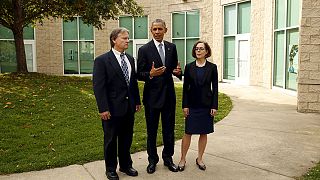 President Barack Obama travelled to Oregon on Friday to lend his support to the families of the latest victims of a school shooting.
The shooting at the Roseburg Community College left 10 people dead, the deadliest shooting incident in the last two years, and his visit came on the day there was another school shooting in Arizona, where an 18 year-old killed a classmate and wounded three others.
"There are going to be I think moments as we go forward where we're going to have to come together and figure out how do we stop things like this from happening. And I've got some very strong feelings about this because when you talk to these families you're reminded that this could be happening to your child or your mom or your dad or your relative or your friend," he said.
Obama was greeted in the strongly pro-gun state by around 250 demonstrators, some of whom had travelled a long way to protest against his visit, and support gun rights. Obama is currently taking legal advice to find new ways
to use his executive powers to enforce existing regulations.