Russia denies US claims cruise missiles malfunctioned over Iran
Comments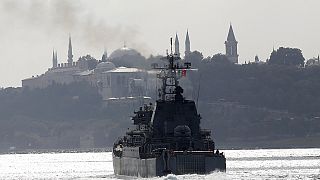 Twenty six cruise missiles were fired from four Russian ships on the Caspian sea. The attack has sparked an information war with the US.
Washington believes four crashed into Iran underling the dangers of the Russian operation. That initial view was tempered when the US defence secretary Ash Carter spoke for the first time in public about the attack at a press conference in London.
"About the Iranian impacts of cruise missiles, we did have some indications that that was the case and if so that would indicate malfunctions of those missiles," he told reporters.
The fact the missiles flew over Iran and Iraq heightens Russia's growing influence in the region say commentators. Moscow was swift to deny there was any malfunction with them.
In the latest air strikes Russia's Defence Ministry said its planes hit the headquarters of the Liwa al-Haqq militant group in Syria killing 200 insurgents. It also said its planes had killed a further 100 insurgents in separate attacks in the Aleppo region. But Carter insisted the Russian operation is risky.
"As we have seen in the last few days, Russia's actions in Syria carry risks both to the region and to Russia itself. Their strategy in Syria is fundamentally flawed," he said.
French Rafael jets were also in action targeting an ISIL training camp in the militant group's stronghold of Raqqa. The French Defence Minister Jean-Yves Le Drian said Russian strikes were not hitting the insurgents but mostly President Bashar al-Assad's opponents.