Jean Paul Gaultier on his grandmother and loving Madonna
Comments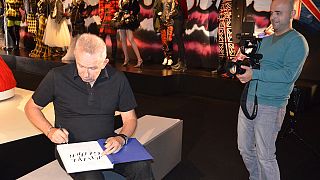 There was no hint of the prima-donna celebrity fashion star, on the contrary, he arrived full of smiles and gaiety.
Jean Paul Gaultier is one of the best-known fashion designers and in recognition of his global stature his designs are touring the world in an exhibition that is as lively and as animated as the man himself.
In a wide-ranging interview, which will air in full on Friday evening, I talked with Jean Paul Gaultier about the exhibition but also his life and career. It was touching when he reminisced about his grandmother who he credits as helping him enter the world of fashion.
He explained how he was allowed to forage through her belongings and stepped into a whole new world.
"I discovered the corset, black feathers from the bird of paradise. It was all magnificent. I uncovered a world I did not know but that made me dream."
His grandmother was one of his many muses. The popstar Madonna was also an important figure in his life – he designed the Queen of Pop's iconic corset bra for her Blond Ambition tour in 1990. In his euronews interview, he recalls that he felt that theirs was a meeting of minds. In fact he was so enamoured by Madonna that he asked for her hand in marriage, three times, only to be turned down.
"The most beautiful thing I could offer her was marriage but maybe not for her. In fact she proved it was not for her: she divorced twice!"
Watch the interview on air and on line Friday 21:40 CET.