Army pulls back from coup in Burkina Faso, president restored
Comments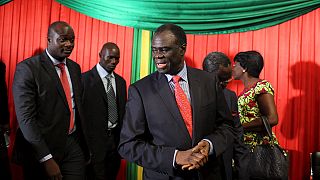 Burkina Faso's interim President Michel Kafando is back in power following a deal with military coup leaders mediated by the regional ECOWAS grouping of west African states.
The deal involves soldiers returning to barracks and an amnesty for coup leader, General Gilbert Diendere.
"We have fought in despair together, and in freedom we will triumph together. I am now free to travel and perform my functions, to continue my job, and reclaim the national legitimacy of my office," said Kafando on Wednesday following the overnight deal.
However regional leaders arriving in the capital were greeted by Diendere and troops loyal to him, and his forces maintain control of the national television headquarters.
Diendere is the ex-spymaster of Burkina Faso's former ruler, Blaise Compaore, who was pushed out of office by street protests after 27 years in power. Elections scheduled for October 11 may now be pushed back until November, although no official announcement has been made yet. Many people are upset that Diendere has been offered an amnesty.