Swiss watch exports fall as Apple dents demand
Comments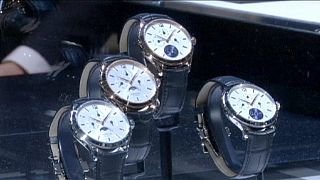 Swiss watch exports fell in August, amid signs that competition from Apple's smartwatches may be denting demand.
Shipments declined by 1.6 percent to one-and-a-half billion dollars, according to the Federation of the Swiss Watch Industry. Among the cheapest watches the fall was 13 percent, while the next grade up saw a drop of nearly a quarter.
The decline of 1.2 percent over the first eight months of this year indicate that shipments could be heading for their first annual decline in six years.
Watches account for about a tenth of Switzerland's total exports.
It's thought the outlook is being clouded by several factors: the introduction of the Apple Watch, but also a surge in the Swiss franc and the Chinese slowdown which may be dampening demand from the well off.