Meimarakis, old guard conservative: what are his chances in Greece's snap poll?
Comments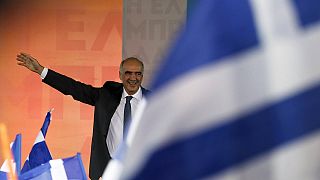 Vangelis Meimarakis became leader of New Democracy and Leader of the Opposition two months ago.
The uniter of the pro-Europe centre-right party has reached out to his rival Alexis Tsipras (who is 20 years junior to him).
While vowing to stick to Greece's painful bailout conditions, Meimarakis suggests a grand coalition alliance — but no power-sharing.
Tsipras rules out any such partnership as "unnatural".
A party member since age 20, Meimarakis has been a member of parliament since 1989, later serving as Speaker for two years. Apart from that, he was Defence Minister from 2006 to 2009, and Deputy Minister for Culture in his early forties.
He is now 61.
But Meimarakis also attacks Tsipras's Syriza party, blaming it for the state of Greece's economy, and saying it drove foreign investors away.
He insists a New Democracy-led government would stabilise the country while attempting to "smooth the corners" of austerity measures.
The former parliamentary speaker was appointed interim party leader this year after the national referendum overwhelming 'no' vote on bailout conditions, when Antonis Samaras resigned.
When Tsipras stood down as Prime Minister in August, President Prokopis Pavlopoulos turned to Meimarakis to form a government. For three days, he negotiated with the heads of different parties, even trying with the far left eurosceptic party of Popular Unity, but without success, leading to the second national poll in nine months.
Former prime minister Costas Karamanlis has thrown his support behind Meimarakis. He said the big sacrifices of the Greek people must not go to waste, and that daring reforms will be needed to spur growth.
Old school conservative versus Greece's youngest of all modern prime ministers… Both have plenty that voters could hold against them.
Many Greeks aching to see improvements in their fortune will feel torn.