Altice expands in US with Cablevision purchase
Comments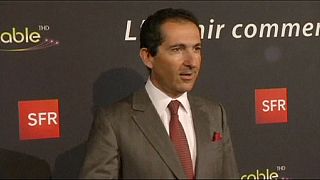 European telecoms group Altice is set to become a major player in the US market.
The latest acquisition for the company founded by French-Israeli billionaire Patrick Drahi is Cablevision, whose Irish-American owners had long said they wouldn't sell.
The deal, said to be worth $17.7 billion (15.7 billion euros), will reportedly be financed by 2.6 billion euros from a share sale, and more than six billion euros in debt.
"I think any sort of expansion into the US is going to be good for any firm. It's a 15.7 billion euro deal and if it accelerates its expansion there then you are obviously creating a greater amount of exposure and you're looking for extra growth as well so it is a top five cable provider and it vaults Altice into some of the major pay TV players," said Brenda Kelly, London Capital Group's head analyst.
Drahi first bought into the US market in May, announcing his intention to expand the Altice group's activity in the States.
His empire in recent years has been built around debt-fuelled acquisitions in France, Portugal and Israel.
By bringing together Numericable and SFR in France, Altice set out to become the leading player in the convergence between broadband and mobile.
History reverted: European cableco buying US company – not the other way around ;-) #Altice to buy #Cablevisionhttp://t.co/CJ9rqSNbn1

— Global Media Consult (@GlobalMediaCo) September 17, 2015