China slowdown casts shadow over Frankfurt Motor Show
Comments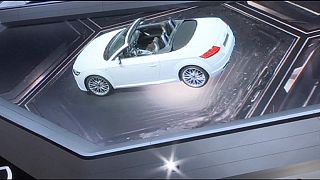 The fancy new models at the 2015 Frankfurt Motor Show which opens this week reflect a cautious optimism over the global car market – at least in some parts of the world.
Sales in America have been booming, though they have been tumbling in China – while Europe has been seeing a surprising, tentative but fragile, improvement.
"We are seeing Europe starting to get in to a recovery mode. It's still slow, it is still a slow recovery, but at least we are on recovery mode. We are not seeing sales decline and slow and not sure when it is going to happen. So we are seeing a little bit more optimism out of this show than we have for the last couple of European shows," said Stephanie Brinley, senior analyst at IHS Automotive market research.
The number of exhibitors at Frankfurt is more than 10 percent up on two years ago – more than 1,000 in all from nearly 40 countries, with the number of journalists said to be around 12,000.
The talk at this year's show is of connected and automated driving, along with electric mobility.
People in the future want their cars to be mobile online communication platforms, says a German industry spokesman.
So what is the outlook for sales?
Globally they are on the rise – just.
China remains the world's largest market but the slowdown is taking its toll and car sales are forecast to dip to 24.1 million units, according to analysts LMC Automotive.
High demand in the US – the second largest global market where sales are forecast to reach 17.2 million units – is tempered by fears over a possible rise in interest rates and potential price wars to make up for the Chinese downturn.
"China is going through a phase of, let say, transformation. We see that also from the data, turning from a production economy to a service economy. But, we are very optimistic that in the long-term China will continue to grow," said Luca De Meo, Audi's Head of Sales and Marketing.
There are also concerns over the markets in Russia and Latin America – also once considered the industry's main growth spots but now in decline.
The exhibitors at Frankfurt are buoyant and optimistic – but the current slowdown in China is casting a cloud as one of the world's largest motor shows gets underway.