Denmark blocks rail and road links with Germany to stop refugee flow
Comments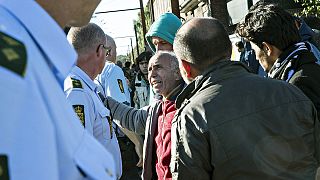 Denmark has closed road and rail links to Germany in a bid to block refugees from heading north to Sweden.
Police tried in vain to persuade people to move on after hundreds stayed put on a northbound train.
Authorities say they were reluctant to use force.
With the situation worsening, the Danish Prime Minister Lars Løkke Rasmussen said he didn't want to see a repeat of what happened to refugees in Budapest.
"It's quite clear that we're under pressure right now, and this situation is very complex. People on the run are coming to Denmark, a peaceful and safe country," he said.
"Yet, there are people who say, well we don't want to seek asylum in Denmark. We would rather travel to Sweden. This clearly shows that what we are facing right now is not only a refugee problem. It is also a migration problem."
Thousands of people fleeing conflict in Syria, Iraq and Afghanistan are trying to reach Germany and Sweden as both have more generous policies for refugees compared to their EU neighbours.
Since its election in June, Denmark's centre-right government has promised to crackdown on immigration. It has axed benefits for new arrivals and restricted the right to residency.