Hungary could 'deploy the army' amid relentless migrant surge
Comments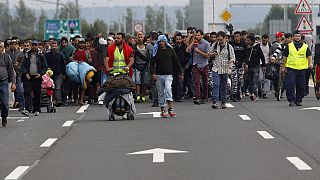 Following in the footsteps of those who had already made it to Germany, hundreds more migrants and refugees set off on foot in Hungary on Saturday.
As they marched along the motorway, some called aloud for buses to take them to the Austrian border
Hungary has insisted there will be no more bus rides to the border after the fleet it provided on Friday night, although some migrants were allowed to board trains taking them there.
The latest exodus followed frantic scenes at Budapest's main railway station on Saturday.
When those who had piled onto a train discovered that it was not, in fact, going to Vienna, they took matters into their own hands and headed off to the highway.
Hungary, the main entry point into Europe's borderless Schengen zone for migrants, has vowed to seal its southern border with a new, high fence – by the middle of this month.
Hungarian officials have portrayed the crisis as a defence of Europe's prosperity, identity and "Christian values" against an influx of mainly Muslim migrants.
"We are going to deploy the police, then if we get permission from parliament, we will deploy the army, and after September 15, step by step, we will control the entire border," said Hungarian Prime Minister Viktor Orban.
"But nobody can tell when total and secure border control will be established. One thing is for sure. We will do everything to make sure it comes to fruition. I am personally committed to it."
Hungary 'may deploy military' to southern border amid refugee crisis http://t.co/i3Q1I01La9pic.twitter.com/qgRXMjFEtF

— The Independent (@Independent) September 5, 2015
Hungary's hardline approach is a sharp contrast to the open arms policy of Germany.
Europe remains deeply divided and is struggling to cope with the surge of migrants from the Middle East, Africa and Asia in one of the biggest tests it has faced in its post-war history.