Shiite Iraqi militia fighting ISIL advances towards Ramadi
Comments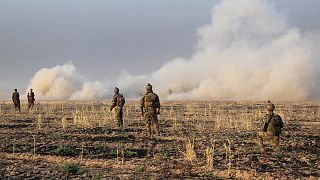 Fighters from Hashid al-Shaabi, a mainly Shiite paramilitary force battling Islamic State militants in Iraq, say they are advancing near Ramadi in Anbar province.
Iraqi government forces and various militias are fighting the jihadist group also known as ISIL in several provinces, including this Sunni heartland in western Iraq.
Hashid al-Shaabi fighters said they had taken control of most of a town just 10 km east of Ramadi, the provincial capital that fell to Islamic State fighters last May.
But progress is tricky due to the explosives ISIL leaves behind, said Hashid Shaabi fighter Haider Thaier: "They mostly depend on sniping in addition to booby-trapping houses in case they need to retreat when the house is raided. They booby-trap it and flee and they also depend largely on sniping."
Sectarian divisions across the country have also slowed the militias' advances.
In the northern province of Kirkuk, Kurdish Peshmerga forces also attacked ISIL insurgents on Wednesday (August 26), in a bid to secure territory won back since last summer.
That front line has barely moved over the past months, Reuters explains. The Kurds already control most of the territory they claim as their own, and have little incentive to push further into predominantly Sunni Muslim Arab territory, except where they pose a direct threat to their region.