Israeli court suspends Palestinian hunger striker's detention
Comments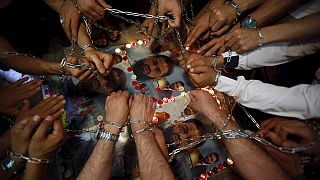 Israel's Supreme Court has suspended the detention of a Palestinian hunger striker who has sustained brain damage after 65 days without food.
The court said that in his current condition he posed no threat.
The detention since November 2014 without trial of 31—year-old Mohammed Allan who is an alleged member of the militant group Islamic Jihad has caused much anger in the Palestinian territories.
Yesterday activists in Paris showed their support of Allan and some 370 other Palestinian detainees held under what Israel calls administrative detention which allows for the holding of suspects indefinitely.
Israel accuses them of terrorism.
The government has seen Allan's hunger strike as a powerful challenge against so-called " administrative detention" which Israel sees as necessary for its security.
In court a government lawyer said Israel was prepared to free Allan immediately if a scan carried out while court was in session showed he had suffered irreversible brain damage .
But the scan results were not conclusive and a hospital spokesperson said it was not as yet clear whether the damage was "completely reversible" implying the possibility of recovery.
For now Allan is to remain in intensive care in the Israeli hospital where he is being treated.His family is to be allowed to visit him