China: angry families of missing demand answers
Comments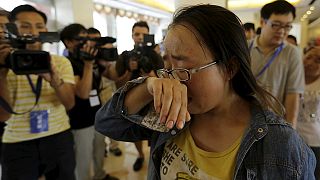 There may be calm on the streets but among the relatives of those missing in the Tianjin blast there is anger.
They are saying on the news that some firefighters have been sacrificed
These people are furious that there has been no news of the firefighters and workers who were caught up in the massive blast.
Media locked inside a news conference this morning as relatives of missing firefighters tried to enter room #tianjinpic.twitter.com/aglGemUjGK

— Paul Traynor (@paul_traynor) 15 Août 2015
In desperation, they tried to storm a press conference in a vain attempt to get news of their loved ones:
"It has been three days and nights since the explosion," said one woman. "I have no news of my son. The department responsible has not given us any information at all. We are so anxious and worried, we came here to find reporters."
"On the news, they are saying some firefighters have been sacrificed," added another man. "My son is firefighter, but he works on contract. Why is there no news of him?"
Officials responded by barring and locking the doors.
The Tianjin explosion: what we know so far:
The explosion had the force of 24 tonnes of

TNT
It was visible from space
At least 85 people have been killed
21 firefighters are known to have died, the biggest loss of emergency personnel since the founding of the People's Republic of China in 1949
721 people are in hospital, 25 in a critical condition, 33 serious.
Sodium Cyanide, which can be fatal if inhaled or ingested, is stored on the site (Xinhua says potentially as much as 700 tonnes)