South Korean 'comfort women' demand Japan apology
Comments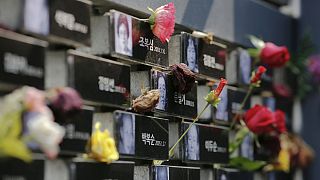 Demonstrators in Seoul are demanding an apology from Japan for forcing Korean women to work in military brothels during World War Two.
Their rallies are a regular sight outside the Japanese embassy.
But Wednesday's gathering was bigger than usual with the coming weekend marking 70 years since the end of hostilities and Japan's colonial occupation of the Korean peninsula.
Lee Yong-Soo, 86, one of the so-called 'comfort women', said:
"If Japan were a deaf person, now they can hear. If Japan were a blind person, now they can see. Because they have heard our demands enough times. They ought to apologise and give compensation."
During the rally, a man in his 80s set himself on fire in apparent support of the demands of those forced into sexual slavery.
Bystanders covered the elderly man with protest banners to put out the flames and paramedics took him to hospital. He reportedly suffered extensive third degree burns but his life is not in danger.
South Korea's ties with Tokyo have long been strained by what Seoul sees as Japanese leaders' reluctance to atone for the country's wartime past.
Young Korean women were among the protesters.
"We the young generation will not forget and we will take a lead in solving this problem," said 24-year-old Park Eun-Hye.
"Not only will I participate in the weekly anti-Japan protests, but I will do my utmost
to settle the issue even after all the former comfort women have passed away."
In today's South Korea, Japan's 1910-1945 colonisation of the Korean peninsula remains a sensitive subject.