Georgia and South Ossetia mark anniversary of 2008 war
Comments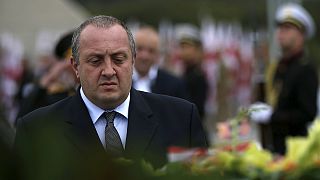 Georgia and South Ossetia have been marking the seventh anniversary of a brief war in 2008.
A five-day Russian offensive prevented Tbilisi from restoring control over its two breakaway regions of South Ossetia and Abkhazia.
Shortly after, Moscow recognised them as independent states.
Two-hundred-and-twenty-eight Georgian civilians, 170 servicemen and 14 police died in the war with Russia, which caused the worst rift with the West since the fall of the Soviet Union in 1991.
On Saturday (8 August), the Georgian President Georgy Margvelashvili visited a cemetery where Georgian soldiers who died in the war were buried.
In Tskhinvali, the capital of pro-Russian South Ossetia, hundreds attended a commemoration ceremony for victims. People held portraits of the dead and candles.