Chile: celebrations as former head of hated secret police dies
Comments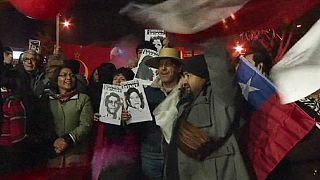 There have been celebrations on the streets at news of the death of one of the most hated men in Chile.
Manuel Contreras headed the South American country's dreaded Dina intelligence service during the government of Augusto Pinochet in the 1970s and 80s.
Scènes de joie et d'émotion au #Chili suite au décès de #ManuelContreras. #Pinochetpic.twitter.com/wcEwgvlrSQ

— Breaking3zero (@Breaking3zero) 8 Août 2015
Victims' relatives say the organisation was behind more than half the cases of murder, torture and disappearance under the Pinochet regime.
One man admitted he is conflicted. "I am happy he is dead," he told reporters,"but he died from illness when he should have suffered much more, like his victims did. I have the feeling that there is still no justice in this country. Even after all these years, we are still finding out about so many crimes and murders that the dictators committed."
"This man increased the hate and the killing," added one woman. "We were proud of our democracy in 1973, we were proud to be democratic. He destroyed this country, it is a different country now."
Tens of thousands of people are said to have died under "Plan Condor" – a concerted campaign of repression and assassination carried out by military governments across South America.
As one of the architects, 86-year-old Contreras was sentenced to 500 years in jail for human rights abuses.
He had been in a military hospital in Santiago since the end of July.